Explosive Tags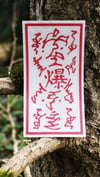 Dimensions -
Length: 7 inches
Height: 3.5 inches
Available Colors:
Red Reflective
Black Reflective
Purple Reflective
Blue Reflective
Warning: We do not recommend placing stickers directly on painted surfaces, as it may damage paint upon removal.
Due to increased demand, orders containing this product **may be shipped out** approximately 5-10 business days from purchase date.
**IMPORTANT: All international orders are subject to customs and duty fees as defined by the country of import. Yumekaze.jp is not responsible for fees associated with import and does not issue refunds based on this issue. All fees must be paid by the parcel recipient.